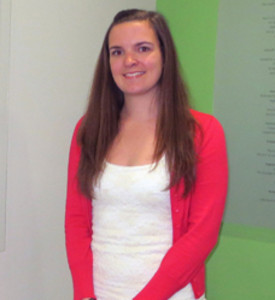 Internship: Public Policy intern, Collaborative for Children, Houston, Tex.
Sarah Huppman, a human development and family studies major at Penn State Brandywine, never thought she'd be living halfway across the country during her senior year of college.
"I took a big risk leaving my hometown and moving to Texas for my internship, but I have loved every second of it! Not only do I get to experience a new job, but also a whole new, very different state. While I spend my weekdays at work, I get to spend my weekends at cook-offs, rodeos and eating crawfish," she said.
Huppman is currently serving as the public policy intern for Houston-based Collaborative for Children, which aims to construct a solid educational basis for young children to succeed in school and beyond, according to its website. She has been working closely with her supervisor during Texas's 83rd legislative session, and during her five-day workweek Huppman is planning and conducting research assignments in order to pass bills dealing with the quality of early childhood education.
"I assist in the planning of legislative visits to the state Capitol in Austin, Texas and I collected data to identify the impact of Texas's recent educational budget cuts on the state's pre-kindergarten program," Huppman explained. "The information I obtained in this project will be used in Collaborative for Children's advocacy efforts to restore state funding for the pre-K program.
"I went on two visits to Austin, and last week we held a breakfast at the Capitol to advocate to legislators and their staff members, explaining why pre-K funding needs to be restored," she added.
Huppman's internship at Collaborative for Children has given her a career-oriented sense of direction and the course work at Penn State Brandywine helped her get there.
"I have learned so much through my courses at Penn State Brandywine," she said. "My professors prepared me for my internship and I use the knowledge I learned in my classes every day. My internship helped assure me that after graduation I would enjoy working for a non-profit organization that serves young children and their families."