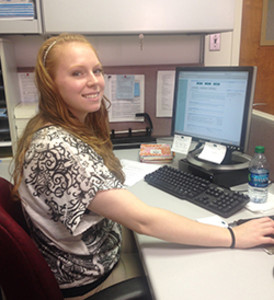 Degree: Communications
Internship: Public Relations and Marketing
Crozer-Chester Medical Center
Senior communications major Katie Kashner is taking a break from her normal five-class semester to spend some time learning in a completely new setting. The Penn State Brandywine student recently started an internship with Crozer-Chester Medical Center's public relations and marketing office and is getting some real-world experience before graduating this December.
As the health care provider's public relations/marketing intern, Kashner is getting a taste of what it takes to make it in the professional world. While working on the hospital's Chester campus two days per week she said she's working on new assignments every day.
Lately, Kashner has been learning how to operate a content management system called VitalSite, which is used to manage Crozer-Chester Medical Center's website. She updates physician profiles and puts press releases on the web, making sure the website is accurate and up-to-date. She also writes press releases and stories and updates the hospital's social networking websites.
"I really like working with the web," she explained. "I am beginning to learn more than general computer knowledge ? and I am even learning a little bit about HTML programming."
Kashner credits her public relations methods, public relations marketing and news writing classes with helping her prepare for her position. She explained, "Everything I have learned at Penn State Brandywine has been put into use ? I truly believe that I would not have been successful in completing the work for my internship without having taken those main classes."
After graduating, Kashner hopes to secure a full-time position like the one she holds with Crozer-Chester Medical Center. Her internship has given her a career-minded sense of direction and she knows the experience she's gaining will help her accomplish her future goals.
"I think my internship is just as valuable as receiving my diploma," she said. "I have the opportunity to learn the ins and outs of my field and get the experience of a lifetime."