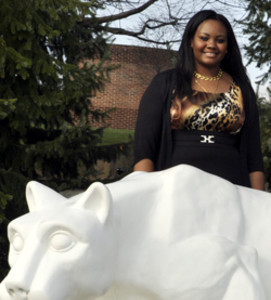 Internship: Children's Hospital of Philadelphia (CHOP)
During her final semester at Penn State Brandywine, December 2012 graduate Jomela Dutt interned at Children's Hospital of Philadelphia's Homeless Health Initiative.
"I worked with master's of social work second-year interns from the University of Pennsylvania. Going in, I was very intimidated, but by building those connections and being confident in myself I feel equal to them now," she said of the experience, which has made her realize she, too, wants to pursue a master's degree in social work.
"I wasn't aware of the extent to which families experience homelessness, so this internship expanded my knowledge of this wonderful population," Dutt added. "I'm at the stage where I need to figure out what I want to do, but I will continue volunteering. The kids are so sweet."
During her five days (40 hours per week) at CHOP, Dutt helped with a number of events, including CHOP Night every Tuesday, when the hospital provides free healthcare to children in the shelters with which it partners. On Wednesdays she served as the volunteer coordinator for SPARK Night, an evening of children's fitness.
But it's the anti-bullying workshop she created of which Dutt is most proud. "One of my goals was to facilitate a workshop for children experiencing homelessness," she said. "I decided to do a play with puppets. First I talked to them about what bullying is and asked if they wanted to share any stories. I wanted to do a play that shows how to stick up for people. That's a big part of bullying. That can stop bullying. Then I provided a healthy snack and bag of coloring activities." The play took place at the Salvation Army in Norristown with children ages five to nine. Dutt said she played the puppet master.
Dutt credits her internship with helping her find a path for her future. "Now I know what kind of atmosphere I want to work in," she said. "Getting the interaction and face-to-face time, being involved in research, training and webinars ? it's made me want to keep doing that. Having a relationship with my team has made me want to do more for the company and for the agency and it's made my work a lot better since we're such a close knit team."
While in her CHOP internship, Jomela also served as the Brandywine Laboratory for Civic Engagement fall 2012 Community Intern, an honor that provided a generous internship stipend.