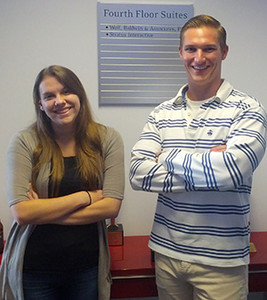 Degree: Business
Class of 2013
Internship: Marketing
Stratus Interactive, West Chester
Getting an internship and networking can be a great way to transition into the working world. Amanda Dzwill and Brett Robinson, 2013 Penn State Brandywine graduates, know this from experience. The business majors both secured internships with the West Chester marketing firm Stratus Interactive during their final semesters at Brandywine, which led to paid positions right out of college.
Robinson now serves as the organization's creative marketing associate after being promoted from his marketing intern position with the company. He works in collaboration with a number of different clients to meet their marketing demands.
He is responsible for managing his clients' online written content, website design and social media marketing. He also assists customers with their graphic design efforts by developing website graphics and brochures.
Robinson went on to explain that being a marketing professional means that having a specific skillset is crucial, which Brandywine helped him develop. He said that "the higher level marketing classes" prepared him to think strategically on the job. He also stated that taking classes, such as business writing and English, honed his writing skills. "As a marketing professional, you are also a writer. Everyone must know how to write well and write strategically," he said.
Dzwill also was promoted from her marketing intern position and now acts as an account manager at Stratus Interactive. In her new role, Dzwill manages projects for her customers from start to finish, guaranteeing that they are completed correctly, on time and on budget. She collaborates with a number of different employees to complete assignments, including graphic designers, programmers, copywriters and interns.
"There are several projects that I manage from day to day, including a media plan for a national hotel chain in Mexico and the entire marketing efforts for a local brewery," she said.
She also agreed with Robinson, expressing that the writing intensive classes at Brandywine helped her prepare for her job. "A lot of people don't realize how much writing there is in marketing ? everything from email copy to blogs to social media," she said. "Strong writing skills are extremely useful in business and marketing."
Brandywine Instructor in Accounting Kathleen Yanoshak, who also serves as the business program's internship coordinator, was thrilled to see her former students excelling in their new roles with the company. She explained that their success shows why internships are such a vital part of Brandywine's academic programs.
"In this current day and age employers do not want to train employees," she said. "They want the employees to come in and be able to start the job on day one. The internships give the students the ability to get on-the-job training."
Robinson and Dzwill both emphasized that securing an internship is an essential part of the bigger picture. It is education, coupled with professional experience, that will help students grow into seasoned employees.
"An internship is not only an addition to the work experience section on the résumé," Robinson said. "An internship will help shape the path of a future career through human relationships and on-the-job knowledge."