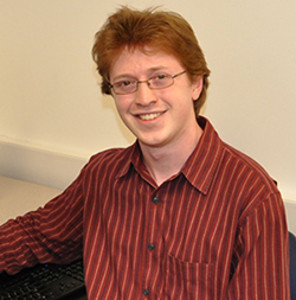 Degree: Information Sciences and Technology
Class of 2013
Internship: Quality Assurance and User Experience, Viridity Energy, Philadelphia
In today's job market, having professional experience can be the key to success. Just ask Penn State Brandywine senior information sciences and technology (IST) major Alex Leiser. He is currently serving as the quality assurance and user experience intern for Viridity Energy in Philadelphia and has already learned great work skills during his full-time internship, which will give him an advantage while searching for employment after graduation.
Leiser contributes to Viridity Energy's main effort to increase the efficiency of its customer's energy needs, according to its website. He has the opportunity of working on a wide range of projects with the company; however, his primary responsibility is collaborating with the software development and quality assurance divisions. Some tasks that he has been assigned include inspecting program interfaces, bug reporting, program testing and creating improvement mockups.
"The experience I am gaining at Viridity Energy is invaluable to me," Leiser said. "It has been very instructive in showing me not only how the technology team works, but also how the business side interacts with them."
The IST program at Brandywine prepares students to design, improve and manage information systems for industries, which is exactly what Leiser is accomplishing. The program has equipped him with the skills needed to tackle any task thrown his way.
"I use what I was taught at Brandywine every single day," Leiser said. "The concepts and principles that I was taught pertain to each and every project I work on at Viridity. I'm certain that my course experiences have given me excellent preparation for understanding the technical components of the job, in addition to the business and organizational aspects."
One individual who helped build Leiser's skillset is Penn State Brandywine's instructor in computer science Nannette D'Imperio, who taught Leiser in several of her IST classes and is proud to see him in his new role with Viridity Energy.
"He's an excellent student, very dedicated and thoughtful," D'Imperio said. "He has a talent for programming and has the natural ability to design code efficiently while keeping the end user in mind."
Leiser was placed in the internship by the Ben Franklin Technology Partners of Southeastern Pennsylvania and Campus Philly StartUp Scholars program, which is funded in part by the City of Philadelphia's StartUp PHL program. He is one of only 10 students chosen to join the program from colleges and universities in the area, including University of Pennsylvania, Temple University and Haverford College. In August, the students and their host companies met with Philadelphia Mayor Michael A. Nutter, who had this to say via press release:
"Connecting our world-class universities and students with the startup community in Philadelphia is a key priority of StartUp PHL, which is why we're so excited about the Ben Franklin Technology Partners/Campus Philly internship program. This was a great opportunity to hear from our future workforce about how we can support startups in Philadelphia."