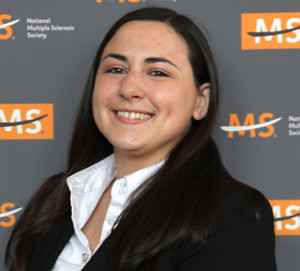 Internships: Penn State Brandywine Laboratory for Civic and Community Engagement, Multiple Sclerosis Society, CTDI
Class of 2013 graduate Aimee Ralph, of Broomall, jumped on every opportunity to get involved during her career as a communications major at the campus. Three of those opportunities were internships, both on and off campus, and a fourth, this time a paid opportunity, could very well lead to full-time employment for the hardworking marketing and public relations enthusiast.
Ralph jokingly called herself a "professional intern," and credits the breadth of knowledge she gained through these experiences with opening doors for her across the communications field. She's entering the "real world" with knowledge about all facets of the field and is certain this makes her a marketable and valuable employee.
First there was her internship with the Penn State Brandywine Laboratory for Civic Engagement, which promotes the integration of civic engagement into academic curricula and extracurricular activities while working to expose students to complex issues and ideas in dynamic ways to encourage them to be more thoughtful and active citizens of the world. During her internship, Ralph was responsible for planning and running events, social media, promotion and marketing.
Next came an internship with the Greater Delaware Valley Chapter of the National Multiple Sclerosis Society. Instructor Karrie Bowen thought Ralph would be a great fit for the position and recommended this opportunity to Ralph, who wanted so badly to work for the nonprofit she took on the job without academic credits (she didn't need them) and without pay.
Her responsibilities included creating a database of contacts for the Society's fundraiser walk-a-thon, WALK MS and cold calling in search of participants and donations. Ralph worked closely with the marketing department, interviewing clients who have MS and writing stories for its quarterly newsletters. She also helped plan the Society's luncheon for women.
"The most rewarding part of my internship with the MS Society was interviewing clients," Ralph said. "I interviewed a 40-year-old man with MS who has 4 kids (his two-year-old has Down Syndrome). It impacted me so much because this guy wakes up every day and he goes with the flow. It made me realize I shouldn't complain about anything in my life ever again."
Ralph stressed the important differences between her internship off campus with the MS Society and her experience with the Laboratory for Civic Engagement.
"The MS internship was like actually working out with the public," she explained. Ralph took the train into Philadelphia three days per week to the MS Society office. "I was reaching out and talking with the public, I did some media relations, I helped with marketing materials. To go from doing outreach to visiting client homes, it was like a real job."
During her internship with the MS Society, Ralph was also working on another off-campus opportunity - with Media Fair Trade, which helps promote and educate the local community about what it means to be a Fair Trade town. Media was the first town in the country to earn the designation and the Brandywine campus followed suit by becoming an officially recognized Fair Trade campus in May 2012.
The internship began as a three-credit independent study where Ralph attended town meetings. Then she took over the Twitter and Facebook accounts for Media Fair Trade. She kept a schedule of social media posts and helped spread the word about upcoming events in the town. "I saw an increase in followers on both [platforms]," she said. "It was a success."
On campus Associate Professor of Earth Sciences Laura Guertin oversees the Fair Trade program with the help of the students who are officially in charge of spreading the word and educating the campus community, Ralph explained. "In the town, this is how people make a living. Storeowners have such a passion for it. I can go out and see there are 10 Dr. Gs out in the community. To see her passion in other people felt really good."
And last but not least, Ralph was recently hired by Communications Test Design, Inc. (CTDI) as a marketing project coordinator responsible for making marketing materials for clients. Ralph said before the internship began that she was extremely excited to experience the corporate world and is hoping she can prove herself and get offered a full-time position. She's been working 40 hours per week since the start of summer and is getting paid for this internship.
"CTDI has been a great experience so far and has opened new doors for me," Ralph said. "The skills I have learned from doing marketing, event planning and social media from the Civic Engagement Lab really contributed to my success at the other internships and especially here at CTDI."
Ralph said she learned more than she ever could have dreamed at her three internships, including time management, how to meet deadlines and making and reaching her goals.
"You have to diversify yourself. Be flexible. Be willing to work with different departments and on different things. Try something new," she advised her undergraduate peers.
"There aren't a lot of paid internships out there but don't make that your priority. Go for what you can get and if you can work for a great company and work in different departments then do that. Get a breadth of experience."
As for her time as an undergraduate at Brandywine, Ralph called it "absolutely unbelievable!"
She traveled to a conference in Boston, attended a student leadership conference in Harrisburg and even studied in Puerto Rico with her communications class. Ralph handled public relations for the Student Government Association, planned a memorial for a student who lost his life, worked on the campus' Blue Out campaign to help stop child abuse, served as an Orientation Leader, was editor of the student-run newspaper The Lion's Eye and was invited by campus administrators to serve on a marketing committee, where she provided a student perspective to the campus' marketing efforts. All while working 35 hours per week at a hoagie shop.
Ralph did it all during her time on campus and loved every minute of it.
"I got to make personal connections with staff and faculty," Ralph said. "I'm going to miss the people. It's a small community here. I knew everyone, even the chancellor. I always felt welcome here. It's such a small campus but it's opening big doors for me.
UPDATE: Aimee Ralph was hired as a full-time employee for CTDI in November 2013.