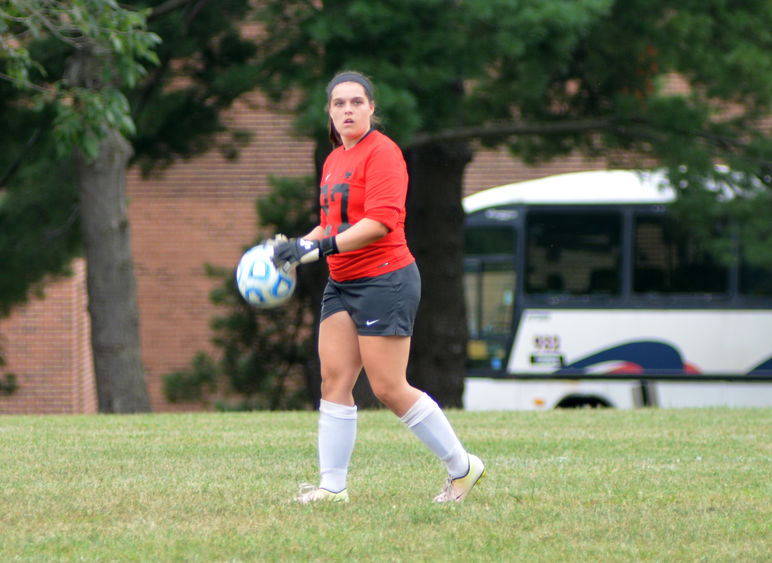 MEDIA, Pa. — Penn State Brandywine's week in athletics was highlighted by the Lions' volleyball quad matches on Saturday and Sunday, where the team partnered with the Side-Out Foundation to raise money and awareness for breast cancer research.
Now in its sixth year, Dig Pink Weekend was a success for Brandywine both on the court and off as the Lions went 4-0, winning all four matches in three sets against PSUAC competition, while selling Dig Pink T-shirts to raise money for breast cancer awareness. The team's goal was to raise $1,500.
Volleyball now sits in first place in the PSUAC with a 4-0 conference mark and 9-2 overall record. The Lions have won 22 consecutive matches against league foes, with 21 of those victories coming in straight sets.
Brandywine student-athletes own the league lead in numerous statistical categories this fall, as junior Nikki Poissant tops the conference with 122 kills and 39 aces, while sophomore setter Sullivan Stark's 339 assists are over 150 more than her closest competitor.
The Lions have a busy week on the road with trips to Mont Alto on Tuesday and a tri-match at Rutgers-Camden Saturday with games against the host Scarlet Raptors and Wilkes University.
Brandywine also had a successful week on the soccer pitch as the men's squad posted three victories, outscoring opponents 28-2 in those matchups, while the women's team recorded a pair of shutout victories over PSUAC foes.
Senior Bill Walleekendeh continued his scorching start to the season with 14 goals and two assists last week. He broke his own school record with six goals in a 6-2 victory over Valley Forge and then added six more scores in a 13-0 blowout of Penn State Worthington Scranton on Saturday.
Walleekendeh is the goal-scoring leader at all levels of college soccer (NCAA, NJCAA, USCAA, NAIA) with 19 this fall. He is also approaching 200 points and 100 goals for his career, as he owns 190 points and 83 goals in 58 games.
Men's soccer has a lighter schedule this week with just one game on tap, a trip to Penn State Beaver on Saturday.
Brandywine women's soccer also sits atop the PSUAC standings after defeating Penn State Mont Alto (5-0) and Worthington Scranton (11-0) last week. Freshman Brianna Banks scored five times during the first half against Worthington Scranton to push her conference-leading goal total to eight. She has scored in all four of Brandywine's games this season.
Freshman goalkeeper Emily Bush has posted a shutout during all three victories and leads the league in goals-against average (0.75 per game) and save percentage (.900).
Women's soccer will host Penn State Greater Allegheny Wednesday afternoon before traveling to Beaver on Saturday.
Another freshman, Anya Tyler, continued to lead the cross-country teams. She ran to her second-straight, top-10 finish, placing sixth at the Penn State Abington Invitational on Saturday. Tyler, who set two school records during her first two races, completed the 5K race featuring 73 NCAA Division III runners in 23:17.
Brandywine will see PSUAC runners for the first time this fall on Saturday at the Penn State Mont Alto Invitational.
Complete box scores, recaps and updates for Penn State Brandywine athletics are posted at psubrandywineathletics.com.