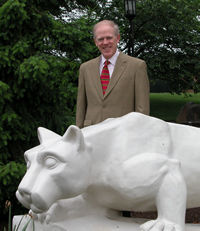 Biography

Paul J. deGategno received his B.A. in English from Norwich University (Northfield, VT), M.A. in English from the University of Rhode Island, and his Ph.D. in English from Penn State University. Dr. deGategno's research focuses on eighteenth-century British literature, with special emphasis on the Scottish Enlightenment. His books and journal articles reflect interests in the historical, cultural, and literary milieu in which writers as diverse as Daniel Defoe, Jonathan Swift, James Macpherson, Walter Scott, Ann Radcliffe, and Thomas Jefferson have lived and worked.

From 2007-2013, Dr. deGategno was the chief academic officer (DAA) at Penn State Brandywine and returned to the teaching faculty in 2014. He began his teaching and administrative experience at North Carolina Wesleyan College, continuing at Wesley College, Delaware, as Dean of the School of Arts and Sciences.  

Professor deGategno is a retired U.S. Army Colonel and former commander of the Army Element and Deputy Director of Joint Operations of a military intelligence analysis center, as well as former Commandant of the Second U.S. Army Intelligence School, FT Bragg, NC.  He currently serves as adviser to the ROTC program at Brandywine.
Publications

"James Macpherson: 1736-1796." Poetry Criticism, vol. 225, Gale Literature Criticism, (2020): 91-298. Web.

"Replying to a Crisis: James Macpherson's The Rights of Great Britain Asserted against the Claims of America." Britain and the World: the Journal of the British Scholar Society, 2018.

"The Correspondence of James Macpherson." The International Companion to James Macpherson and the Poems of Ossian. (Glasgow, 2017).

"Hugh Henry Brackenridge: Modern Chivalry: Containing the Adventures of Captain John Farrago." The Encyclopedia of Greater Philadelphia. 2015.

Critical Companion to Jonathan Swift: A Literary Reference to His Life and Work. New York: Facts on File Inc., 2006. eBook, 2012. (with R. Jay Stubblefield).

Ivanhoe: The Mask of Chivalry. New York: Macmillan/Twayne, 1994. CD-ROM: 1998.

"The Sublime Savage in America: James 'Ossian' Macpherson's Tour of Duty, West Florida, 1764-1765." Scotia: The Interdisciplinary Journal of Scottish Studies, 1993.

"The Source of Daily and Exalted Pleasure: Jefferson Reads the Poems of Ossian." Ossian Revisited. Edinburgh: Edinburgh University Press, 1991.

James Macpherson. Boston: Twayne Publishers, 1989.

"The Scottish Enlightenment: A Supplementary Bibliography." Eighteenth-Century Scotland, 1988.

"Daniel Defoe's Party-Tyranny: A Colonial Controversy." Southern Studies: An Interdisciplinary Journal of the South, 1987.

"Daniel Defoe's Newgate Biographies: An Economic Crisis." CLIO: A Journal of Literature and History, 1984.