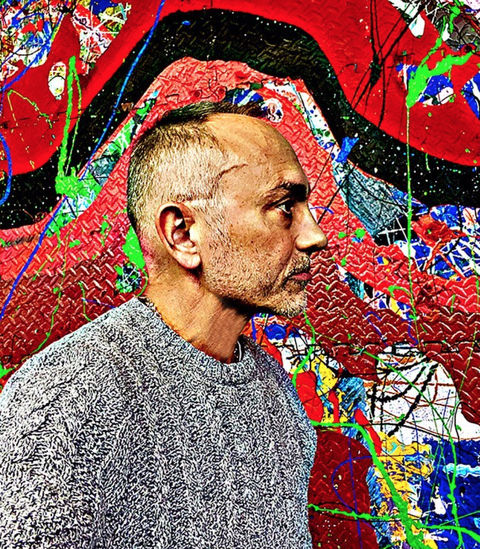 Associate Teaching Professor,
Art
25 Yearsley Mill Road
Media, PA 19063
Biography

Jon Manteau received his Masters of Fine Art, In 1996, from the University of Delaware. He studied at the Pennsylvania Academy of The Fine Arts, in Philadelphia, PA, where he received his four-year certificate, in 1987. He has also studied at Parsons School of Design and The New School for Social Research from 1981-83. His areas of expertise are– painting, drawing, sculpture, printmaking, 2-D Design, Street-Art/Graffiti (having been a "tagger" in Philadelphia in the 1970's while in high school), but not limited to those subjects. To say that he's a "wellspring of knowledge" would be an understatement.

He has taught at the University of Delaware (where he learned how to be a studio-art educator), Temple University/Tyler School of Art and is currently an Associate Teaching Professor of Studio-Art, at Penn State Brandywine, just outside of Philadelphia. He was given the task of building their studio-art program from the ground up and has taken the notion of being "a culture changer" as charge. That has been an ongoing process over the past 10 years. He is "liaison to studio-art" at Brandywine.

Jon has been a college professor for 25 years. He has had 11 solo exhibitions in the past 18 years. There was a 5- year "bump in the road of sorts" (from early -2013-18), while he recovered from "The Big C". He's exhibited nationally and his works are in collections, throughout the United States, Bermuda and Canada. He has been a working artist for over 35 years. Jon lives and works in Philadelphia, PA.
Performances and Exhibits

Selected Solo Exhibitions

2018– "Prelude to Skyland"
LGTripp Gallery / Philadelphia, PA

2014– "Philadelphia Historical Artifacts"
LGTripp Gallery / Philadelphia, PA

2011– "To a Hammer, Everything Looks Like a Nail"
LGTripp Gallery / Philadelphia, PA

2007– 'History of the Mark"
Gallery Siano / Philadelphia, PA

2006– " 8 -One Artist Shows"
Carbon County Cultural Project / Jim Thorpe, PA

2005– "Of Print and Paint"
Gallery Siano / Philadelphia, PA

2005– The Fleisher Challenge Exhibition Series
Fleisher Art Memorial / Philadelphia, PA

2005– "Big Idea"
Big Idea / Jim Thorpe, PA

2004– "Like Mudbugs on a Griddle"
J. Martin Gallery / Indianapolis, IN

Selected Group Exhibitions

2020– "InLiquid Art and Design Benefit"
InLiquid Art / Philadelphia, PA

2019– "InLiquid Art and Design Benefit"
InLiquid Art / Philadelphia, PA

2018– "Railpark Benefit"
Bridgette Mayer Gallery / Philadelphia, PA

2017– "Home For Hope / LGBTQ Fundraiser"
Frank's / Philadelphia, PA

2016– "Sage Reunion"
BLAM Brooklyn / Brooklyn, NY

2016– "InLiquid Art and Design Benefit"
InLiquid Art / Philadelphia, PA

2015– "Artist Choice"
LGTripp Gallery / Philadelphia, PA

2014– "SELECT MIAMI"
LGTripp Gallery / Booth/ Miami, FLA

2014– "Old City Fest"
Pop-up Venue / Philadelphia, PA